СВЕТОВОЕ ТАНЦЕВАЛЬНОЕ ВОКАЛЬНОЕ ШОУ "QUINTESSENCE"
­­
RUSSIAN DANCE, VOCAL, LED SHOW "QUINTESSENCE"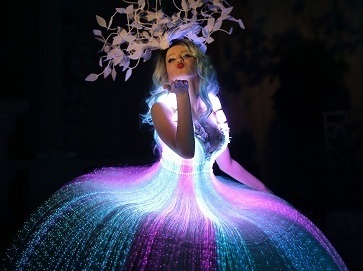 Each performance is created individually according to the event. We take a lot of factors into consideration, beginning with organizers' wishes and the event itself and finishing with the venue and guests' wishes. The main performances, which our current programme consists of, can be found below. Apart from main performances we also provide the following services: meeting guests in illuminated costumes, photosessions, and other interactive activities with guests. Moreover, we can also direct a wedding show (a bride's dance, groom's and bride's dance). Each show programme is created of our current performances according to a client's choice. A minimum number of performances is 5, a maximum one is 10. Each performance lasts from 3 to 5 minutes. Speaking about a show, it takes up to 2 or 4 hours, including the time for costumes change (20-40 minutes).
All dancers got a higher choreographic education in leading Russian Higher Education Institutions. This fact proves the quality of the show. Moreover, all our costumes are made only for us and by us, so that you will not see the same kind of show anywhere in the world!
The variety of our performances will deepen you into the Past and Future, but in Present you will see the culture of Russia, Latin America and Europe.
It is a combination of a dancing, light and vocal performance! It is beautiful, tender, unpredictable, enchanting, romantic and intriguing! This performance is exactly what love has to be! You are excited and surprised from its first seconds: there is a podium dress (2x2 metres), an alive song and only in the middle of the performance spectators realize that there is not one girl on the stage, but 5!!! There are 5 dancers on the stage wearing costumes consisting of more than million light bulbs. (A standard performance includes 4 girls, the 5th one is optional).
This performance is a colourful, hot, expressibe and vibrant Brazilian act.​It will charge you with its energy and it will bring the rythms of Latin America to your hearts.Bright LED costumes, inspired by the atmosphere of a Brazilian carnival, will leave you under unforgettable impressions.
Exclusive dresses (each made from more than 50,000 Swarovski crystals) accept and reflect the light of millions of flashes and shimmers from unique chairs, illuminated by smart diodes and programmed specifically for staging! Beautiful and very sexy choreography: all this is unique neither in the idea of illumination, nor in its embodiment, not only in Russia but also in the world of light dance number "BURLESQUE"!
Miss elegance and extravagance. Atmospheric, sophisticated, Bohemian dresses for unique events. The show is perfect for both "welcome" and the main part of the event!! Girls in the images of beautiful floor lamps - the best decoration of any event. This Your guests have not seen! Show with the famous Madonna song "VOGUE". If You plan to surprise at once at a meeting of guests - also - this is what you need!
The second show, after the BURLESQUE show, in which not light suits, but light unique props, which You can see only with us. The new masterpiece from SHOW QUINTESSENCE: light dance number with 3D effects "Animated paintings"The show, which combines stunning mirror costumes, as always beautiful choreography and unique props: easels and paintings without canvas, which revive the fantasies of our dancers-artists! 4 easels, 4 live pictures, 4 dancers in the show!
Fabulous, charming and memorable show, which is not terrible and made specifically to your party will be memorable and unusual! At the heart-the image of Maleficent-a young and charming fairy living In the Swamps. She is surrounded by the same fairy Princess with whom she spends time. It will be fun and hot! Suitable for any public.
Cheerful, incendiary, stylized folk, but at the same time, a very modern Russian show "SLAPS" will decorate any holiday! Lively, stunningly beautiful and extraordinarily sexy! If you want a real, Russian drive on your holiday - this number is for you! Despite the innovative features, the number of "flip flops" youth, charismatic and artistic. This is a production that shows traditional Russian culture through the prism of modernity!
Do you imagine how angels look like?But, you have never dreamt of seeing them in reality!Our angels will blindfold you not only with their audacity, sexuality and allure, but also with their shine.You won't resist this temptation.
A sexual playball symbol, a bunny, is more than 55 years old. Despite this, the girls, wearing its image, continue to excite men's imagination! "Quintessence" show is the first show in the world to make this image illuminated! We couldn't find anything like this over the Internet. Sex! Passion! Desire! Flirtation! Temtation! Erotica! Mistery! Charm! Any of these words can characterize the performance. The girls wearing illuminated Playboy bunny costumes, what can be better at your party!
This funny performance is made in the style of the USSR of the '50s!The only word, MOD, explains it itself!A vibrant and colourful performance is suitable for any audience. If only girls had LED costumes in the Soviet time! It could possibly change the history of Russia!
Nymphs in LED costumes at your celebration symbolize lightness, aeriality, tenderness and love!​An unusual because of its beauty and emotions performance will present overwhelming, true and kind feelings to you and your guests.
This dance will deepen you into the atmosphere of the '30s.It will impress you by its sex appeal and eccentricity.This tempting, but decent performance with some erotic elements intrigues not only men, but women as well! LED corsets will lighten up at the most unpredictable moment!
A fun, funny, interactive show made thanks to your wishes! No one will be able to sit still and all the guests will dance with us! Ideal for any event, both adult and child. BUBBLES LOVE IT - it's a lot of positive, good mood and fun! Important addition: during the new year period our merry bubbles turn into funny incendiary deer, which with the number Snegurochki - the best basis for the new year program!
We are ready to present you our vision of the girls from Steampunk civilization:acid, ultraviolet costumes, crazy glasses and an impudent look.A fantastic image of the future is for you only in our show!
Welcome to the magical world of led fairyland, where flowers magically come to life in complete darkness and begin to spin in a fascinating dance! Each flower in rotation has a diameter of almost four meters and, constantly changing colors and shades, immerses the viewer in a real fairy tale! NIGHT FLOWERS is a unique show on the event market! Undoubtedly, the show will appeal to the audience of any age, but when choosing this show, please take into account the size of the scene
Only in winter! Hilarious seasonal show "JINGLE BELLS". Stunning led costumes, great incendiary song, fun dance and Christmas mood on Your holiday provided! Important: in addition show recommend rooms SNEGUROCHKI, the CHRISTMAS CREW! Together is the best basis for the new year program! Please book the Show in advance, as the closer the date of Your event, the less likely it is to have a free cast and/or show.
Only in winter! Seasonal fun show "Snegurochki". Stunning led costumes, great incendiary song, fun dance and Christmas mood on Your holiday is provided! Important: in addition to this number we recommend the show BUBBLES LOVE IT, which in the new year period turns into a fun incendiary snowmen! Together is the best basis for the new year program!
Super heating, super sexy, super choreographical show! A production that puts into a trance and does not let go until the last second! A room that makes you forget about everything for 5 minutes! It - HARD KISS.Immediately after the premiere, we wrote in the social network Vkontakte: "Steeper is nowhere! Bravissimi!" That's the reaction we wanted when we designed this room and choreographed. Booking now!
Офис, репетиционная база
Шоу QUINTESSENCE

,

Россия

,

Москва

,

Стромынка 19Ак1

круглосуточно
Шоу QUINTESSENCE 2014-2018. Права на все костюмы и хореографию защищены как в РФ так и по всему миру. 8 968 08 888 08